About Talon Survival
Welcome
A Word from Raven,
Hello and thank you for visiting Talon Survival. I have always taken great pride in helping others and sharing knowledge. In doing so, I believe you can make the internet, and world as a whole, a better place.
I am a husband, father, a certified medic of 15 years, and a volunteer firefighter and fire/EMS instructor for 10.  I have operated in a number of different trades in my life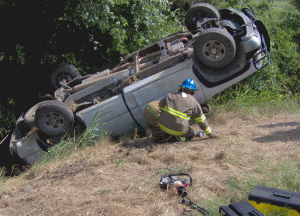 including:
emergency response
information technology systems
occupational health and safety
emergency/incident management
emergency communications.
In this time I have obtained a unique blend of skills and experiences which have taught me that planning and preparing for emergencies of all shapes and sizes is essential to improving the outcome for my family during those hard times.  I have also learned that technology can make a person more efficient and effective, even in the quest for survival.  However it must supplement preparedness and survival skills, not replace them.
It is these skills and experiences that guide me in my mission of family preparedness.  Through my experiences and observations, I have a growing concern with the stability of our society and the path we are on as a collective.  As a father, my goal is to make a better place for my children, not make more of a mess for them to clean up later.  Part of making the world a better place and making a better life for them starts with preparation.
While being proactive and planning as a family, we are developing lifelong skills, a set of values and morals, and preparing future generations to handle the mental and physical stresses at hand during times of emergency.  In some cases, preparedness can overt an emergency all together, just by taking a proactive approach and being prepared.
Mission of Talon Survival
Talon Survival is our roadmap charting the preparedness and survival breadcrumbs we have learned along the way.  Printed with the primary goal of helping others by sharing our knowledge and lessons learned.
Talon Survival will provide you with a technological knowledge base that can support your flight of survival as you prepare, as well as provide technical details which may help you gain an edge and assist in your decision making process, or in your general preparedness endeavors.
Please make yourself at home on our site and look around.  Follow us in Facebook to receive updates of new content by clicking the blue Facebook icon on the top right of the site.
Welcome to Talon Survival.   Let the flight of survival begin!
Sincerely,
Raven
Founder of Talon Survival