Bug Out Bag Checklist (72 Hr – Adult)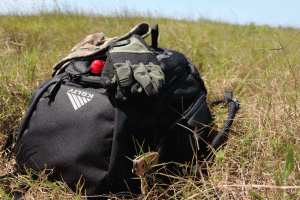 We have prepared a checklist of the equipment for a Bug Out Bag (BOB) that we recommend and use here at Talon Survival.
Our Bug Out Bag system is designed on the supply needs for one adult for a period of 72 hours (3 days). We selected to contents for our system to be as lightweight and functional as possible while providing an acceptable balance between quality, ergonomics, and affordability. Our Bug Out Bag system was designed for a hot humid climate with mild yet humid winters. You may need to add or switch out some items to adapt to the needs of the climate where you are located.
System Snapshot
Persons: 1
Age: Adult
Time Period: 72 Hours
Climate: Hot-Humid
The Checklist (PDF Format)
Below is our Bug Out Bag Contents Checklist in PDF format to help you build your bag. The checklist includes links to specific items we recommend and use in our Bug Out Bags here at Talon Survival so you can find them easily on Amazon.
The Checklist includes a Bag Check Summary at the top right of the page (in green) for you to record the following information as a quick reference.
Date Last Checked
Bag Weight
Package Dates / Expiration Dates
If you do choose to purchase any of the recommended items, please use our included links, as it helps us to provide you with additional checklists and content.  We do not recommend any products that we have not used or tested ourselves.
How to Use The Checklist
This checklist was designed to not only be used as you build your Bug Out Bag system, but also to help you minimize the time and efforts involved with maintaining your bag.  Follow the steps below to maximize your bag maintenance efficiency.
Use your checklist to help you build your Bug Out Bag.
Once you have completed the build out of your bag, be sure to enter the information in the Bag Check Summary at the top right of the page (in the green textbox). You can easily find the weight of your bag using the steps provided in the next section.
How To Find the Weight of Your Bag
There is no need for a fancy scale to weight your bag, just use the following method with a standard bathroom scale.
Weigh yourself on a bathroom scale without your bag and record the weight.
Now put your bag on and get back on the scale (with your bag) and record the weight.
Subtract your body weight from the weight obtained with you and your bag to get your bag weight.
(Your Weight with Bag) – (Your Weight without Bag) = Bag Weight
What Bag Should I Use To Carry All This?
Now that you have started developing your kit, you need to find the right pack to store it in.  Check out our three part series on pack selection to determine what pack best fits your needs.
Pack Selection Series – Part One: 9 Vital Factors In Choosing A Pack For Your Gear
Pack Selection Series – Part Two: 3 Types of Backpacks to Meet Your Gear Loadout Needs
Pack Selection Series – Part Three: 15 Important Features to Consider When Selecting Your Backpack
Want our latest information straight to your email?  Sign up for the Talon Survival Communique newsletter here.