10 Awesome Comfort Items to Prepare Your Home for a Storm
With all the items around a homestead that have to be secured before the impact of a storm, and the limitless things that have to be done cleaning up after.  It is important to look at items that will make it easier.  Be it severe weather, winter storm, flood, or hurricane, here's a list of proven items used in the past to make ride out or recovery more comfortable and efficient.
Gorilla Tape
The only tape that outshines duck tape.  It will stick to just about any surface, many where duck tape doesn't stand a chance.  It is temperature, weather, and UV resistant allowing for long term use outdoors.  While duck tape degrades in sunlight, Gorilla Tape holds strong.  Here are just a few of the endless uses:
Quick repairs of supplies and tools.
UV protection of outdoor equipment such as rope or bungees.
Secure and create a waterproof seam around tarps for post storm repairs. Join tarps or other materials together and maintain water resistant seam.
PLYLOX Hurricane Window Clips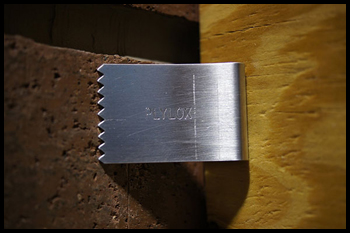 These simple tools make boarding up your windows a snap.  PLYLOX allow you to secure plywood around inset windows with no screw holes required.  They can be removed with a simple flathead screwdriver after the threat has passed.  Plan on a minimum of eight per window for proper force distribution and better protection.  Be sure to order before a storm as they can sell out fast when storms are imminent.
WaterBOB
A great product for when you have limited space for bulk water storage.  The WaterBOB is a one-time use plastic bladder that fits in your tub allowing you to store drinkable water while sealing it off from exposure to the outside air and airborne particulates.  Because exposure to air allows the growth of micro-organisms, the WaterBOB allows your water to remain drinkable longer. It also includes a pump to easily pump the water out as needed for drinking, cleaning, flushing toilets, adding to a water purification system, etc.  They are very compact and easy to store, and just fill up in a few minutes when needed.
WaterBricks
A water storage solution that allows you a great balance between water storage, portability, stack-ability and weight.  The WaterBrick stores 3.5 gallons of water or can also be used for dried food storage. It is made of HDPE and includes a removable handle, and is also designed to be stackable.
When full the WaterBrick weighs 28 pounds, making for a much more comfortable carry or lift for ladies, young adults, or seniors.   Other options such as the AquaTainer or Septer Water Can weigh in at 40 pounds or more when filled. They are also not designed to be stackable.
UPS – Keep your Internet Running
No, we are not talking about the shipping company, but an Uninterruptable Power Supply (UPS).  Most people purchase a UPS to get few quick minutes to shut down a PC or home theater equipment so it isn't damaged during a power outage.  However, they can do so much more.
Purchase a dedicated UPS for your home network equipment.  This includes:
Your DSL/Cable Modem
Router
Access Points
Wifi Repeaters
And More
Basically, any equipment that is used to keep the internet running at your home.  Since most network devices draw relatively small amounts of current, this will allow you to keep your network up and running for a few hours once the power is out. They will also protect your delicate equipment from surges related to brownouts and other power issues day to day.
I would recommend a 1kVA or larger from APC or CyberPower.  They tend to be some of the more reliable options on the market and will set you back around $100 – $150.  Expect to spend a little more for a higher capacity unit.  If you need even more runtime, select expansion capable units like the APC Back-UPS Pro 1500VA that allows for the connection of an external battery pack.
Without power for a long time while you're at home? Plug your UPS into a generator during the day to charge the batteries.  Then run off your UPS at night to keep your security or internet online.
Ring Doorbell & Wireless Cams
While extremely popular in the security market for their ease of deployment and monitoring, many of the Ring doorbells and wireless security cameras include and internal battery to ensure you a few days to a few weeks of runtime if the power goes out.  The following models offer battery backup.
Ring Spotlight Cam Battery (coming Fall 2017)
Ring Spotlight Cam Solar (coming Fall 2017)
Once you deploy your UPS to keep your internet running, you can continue to monitor your cameras.  Still at home? Stranded at work?  Evacuated to an alternate location?  It doesn't matter.  With your home internet operational and data access at your remote location, you can still keep an eye on your home.  Use the visibility to monitor security, check for damage, and more.
Note: With Ring products is you must pay for their annual package known as Ring Protect to be able to record video, otherwise you will only be able to live view your cameras.  The recordings are stored on the Ring cloud servers and are kept for 60 days.  As of the writing of this article, the basic plan runs $30 a year for a single device, and the plus plan is $100 a year for unlimited devices.  So factor this in to your pricing.
Already have a Digital Video Recorder (DVR) Security System that you can monitor remotely?  No problem, dedicate another UPS for the system to keep it online if the power goes out.
Hand Tools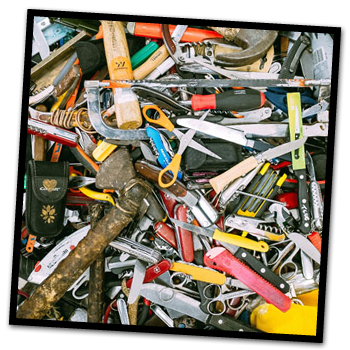 With no electricity, power tools are of limited use.  Even if you have a generator, you may have to wait for batteries to charge up, or be limited to certain tools due to capacity limitations.  Hand tools require no power and can keep you working on the tasks at hand.  Keep a few decent hand tools around in case  the going gets tough when the power is out.
Hand Saw
Hacksaw
Hatchet
Axe
Hammer w/ Various Nails
Screwdrivers
Utility Knife
Gas Powered Generator
A portable generator provides power when the grid goes down.  It allows you to run power tools, keep your refrigerator cool, or even run a small portable AC unit or heater.  Plan on a unit at least 3500 Watts or higher.  3500 Watts will allow you to run a fridge or AC (not both) while still being able to charge cordless tool batteries, cellphones, and more.
Step up to a larger power unit 6-7kW to run multiple high-power items but your portability becomes limited as they can get quite heavy.  Be sure to check the current draw on the items you wish to run to ensure your generator has the capacity to handle it.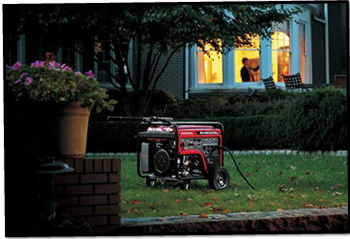 Keep in mind that generators need constant TLC, they do not have the endurance of vehicles.  Most generators I have seen fail during emergencies are because people forget to change the oil.  Their small engines usually need an oil change every 24-48 hours of run time (which is every few days or less in a grid down scenario) and a refill of gas every 5-7 hours, if not sooner.  Read the manual and know what preventative maintenance is needed for your generator and how to preform it.   Have motor oil, drain pan, a replacement spark plug, and air filter ready to go.  Test monthly in the off season.
Portable AC/Heater Unit
A small Air Conditioning Unit or Heater Unit (depending on your climate) can make a huge difference in comfort for your family when riding out or recovering from a storm.  If the power goes out, the right size unit can be ran on a generator to make things more comfortable.
Typically, this will only cover one maybe two rooms in your home, but although a small area can make quite a difference in morale.  Sleeping in a 75-degree room in the summer when it is 91 degrees in the rest of your house is a win in most people's book.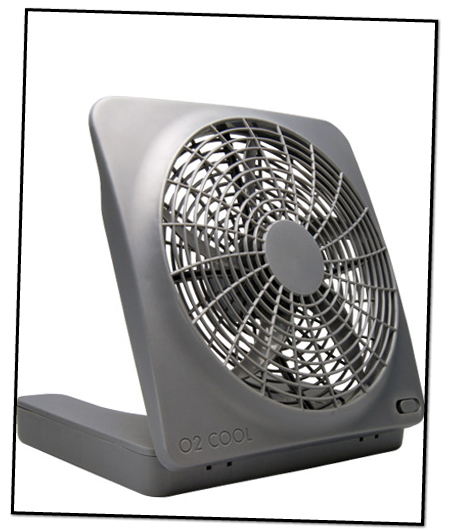 Run the unit during the day with the generator to condition the room.  Be sure to keep the door and windows closed as much as possible to maintain the temperature.  Turn it off at dusk and use the existing insulation in your home to hold the climate until morning.
Portable AC units can also be used for heat waves in areas where basements and central air conditioning isn't an option.  Or visa versa with a heater.
Battery Powered Fan
For the areas that you can't climate control, just a little movement of air can feel like a world of difference.  A few battery-powered fans can keep the air moving when the power is out.  They also run silent at night when the generator is off and you are trying to get some sleep.
Something Missing?
Think of something today that would improve the comfort for your family when riding out a storm or during recovery and add it to your kits.  If we haven't listed it here, share it with others in the comments below.