15 Important Features To Consider When Selecting Your Backpack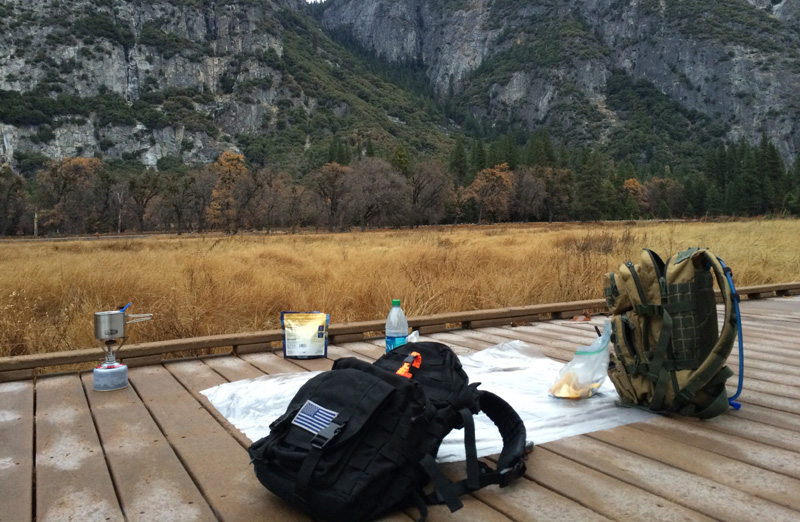 Packs come in a number of different styles, each specialized based to a specific sport or activity such as climbing, mountaineering, skiing, hydration, travel, day use or messenger/business use.  Much of the styling just brings a specific set of features needed for that sport, such as mountaineering packs having trekking pole or ice tool holders.  Some of the features can provide benefits based on your method of use for the bag.  There is no way we could hit every feature available on bags today, but we hit the high points for a preparedness pack below.
This article is part three and the final part of our three part bag selection series. Be sure to check out Part One: 9 Vital Factors In Choosing A Pack For Your Gear and Part Two: 3 Types of Backpacks to Meet Your Gear Loadout Needs if you haven't already, to make sure you have the most knowledge to guide you in your backpack selection.
Durability
Most packs are made from either Nylon or Polyester or a combination of the two.  The fabrics are measured in Denier (D) which is a measure of fiber firmness by weight.  Denier is the mass in grams per 9000 meters of fabric. For example, 9000 meters of a 400D thread is 400 grams (or 14 ounces).  The heavier the denier, the sturdier, heavier, more water resistant (other than the zippers), and more resistant to abrasion.
As far as the materials go, Nylon is stronger than polyester, provides more abrasion resistance, and has a smoother feel to the touch.  Polyester retains its color better than nylon and is more water resistant.  It is also important to note that both of these synthetic fibers will melt when exposed to flame so keep them away from lighters and campfires.  Unless of course you are trying to find an excuse to get a new pack.
Either material will serve you well for most uses.  If you are looking for lightweight, go with 200D-400D.  If you plan to be in heavy vegetation or in an area prone to snags, I would recommend staying above 400D to increase your abrasion resistance.  Remember, as your D goes up, so does your weight.
Water Resistance
As mentioned above, polyester is more water resistant than nylon, but neither are waterproof.  Consider a waterproof liner for inside the bag or an external rain cover.  We
carry both as it provides the most water resistance.  External covers like the Sea to Summit SN240 Pack Cover also keep the bag from absorbing water, which adds more weight to your back while carrying.
Some bags come with built in rain covers.  This adds to the value of the pack because buying one can run from $20-40 dollars.  However, remember if these are not fully detachable, then it is additional weight on your bag that you cannot remove.  If they are included, look for ones you can completely remove from the pack.
Torso Size and Adjustability
It is very important ergonomically to have a bag sized to your torso.  Some bag manufacturers such as North Face provide a torso adjustment system to give you a custom size fit.  Many other manufacturers give you multiple pack sizes (small, medium, and large) which each have a torso range.  The 2015 model of the Kelty Redwing 50 for example has two sizes, the S/M with a torso fit range of 14.5in – 18.5in and the M/L with a torso fit of 17.5in – 21in.  The newer 2016 model added the Perfect Fit feature that provides an adjustment system similar to North Face, but much simpler.  Both older and newer models of the Kelty are nice packs with a great price point and ideal price to feature set ratio.
Source: Kelty – YouTube Channel
How to Size Your Torso
To find your torso size, it is best to have a friend assist you.  First, find the seventh vertebrae by feeling for the bony bump at the base of your neck.  Then identify your iliac crest by placing your hands on the top if your hip bones on each side with your thumbs pointing backward and in toward your spine.  Have your friend measure the distance between the 7th vertebrae and the point between your two thumbs.  You now know your torso length.
MOLLE/PALS Webbing
This type of webbing allows you to connect additional pouches to your gear and thereby expand the carrying capacity of your bag.  It adds additional weight but provides increased adaptability as you can find a MOLLE/PALS compatible pouch for a ton of things.  The downside to the webbing, other than weight, is that it can decrease your ability to blend in to the surroundings; especially in urban areas (the Grey Man Concept – see here for more details).  It also makes you more susceptible to snags on vegetation if you are moving through tall brush or heavy thicket.  I have used bags with and without PALS, and prefer bags without them due to the reasons above.
For more information on MOLLE/PALS webbing, check out this great article from Offgrid Web.
Side Water Bottle Holders
Many bags have side pockets for holding water bottles.  In my opinion, these are a must have.  It makes your water readily accessible without having to remove your pack.  They are also useful for holding small snacks like power bars, or a quick place to throw your garbage to pack it out when you are done with your snack.  Even if you are using a hydration bladder, you can always find a use for the side pockets.
It is important to try the water bottle pockets out to see what size water bottle they will hold.  Most will hold the standard 32oz/1L Nalgene bottle or 40oz stainless steel bottle, while others will only hold a narrower 18/27oz bottle.  I try and look for bags that can hold a 32oz or 40oz on both sides of the pack.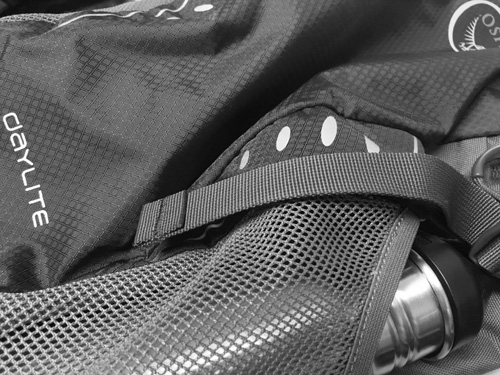 Sleeping Bag Compartment
This is a zippered pocket usually at the bottom of the pack.  It is handy if you do not want to use an additional stuff sack for your sleeping bag but does not offer as much compression as a stuff sack, so you can't get it as small.
Top Load vs Front Load (aka Panel Loader)
Top load bags are the most common and traditional in the hiking world. They only allow you to load gear into the large main compartment from the top.  This provides more water resistance, but means if you have to get to something in the bottom of your bag, you have to take everything on the top out.
On the other hand, front load packs (also known as panel loaders), have a universal zipper extending from the top of the pack to the bottom.  This allows you to open the pack from the top only, or from the front allowing you to access all the gear in your pack regardless of where it is in the main compartment.  With this design there is more zipper exposure, therefore decreasing the water resistance slightly.
We prefer front load packs because of their flexibility.  This in combination with a rain cover or internal liner to improve the water resistance is ideal.
Front Organizer Pockets
Front organizer pockets are a must have to allow for organization for the gear you frequent as well as smaller items.  They allow you to organize the items in a number of different small pockets and keep them readily accessible.  In a top load pack with no front pocket organizer for example, all of your small gear would sink to the bottom of the pack.  You could organize it in another separate bag system inside the top load main compartment, but this just adds extra weight and is something else you have to dig through when getting to something in the bottom.
Side and Top Pockets
Side and top load pockets allow for additional small item storage and for you to separate different items with different functions.  For example, you can keep your bleeding control and/or first aid kit in the left side pocket and your communications gear in the right.  Top pockets do the same as side load and provide more organization and tend to be the easiest pocket to get into when you take your pack off.  Most top load packs tend to have a top pocket but not always a side pocket.  Try to look for packs that have both if possible.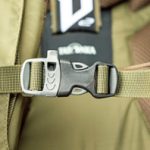 Safety Whistle on Sternum Strap
This is a nifty feature for weight savings, but not a necessity.  Separate safety whistles such as the Acme Slimline 636 provide much better performance and louder sound.
Trekking Pole or Ice Axe Holders
There are many different ways these pockets are constructed into a pack but they allow for long thin items to be secured into your bag.  This keeps dirt, snow, and moisture out of the inside of your pack and keeps the rigid edges off the rest of your gear.  This feature is quite handy for a number of items including trekking poles, umbrellas, axes, folding saws, rifle tripods, or even takedown rifles such as the Ruger 10/22 Takedown.
Source: Kelty – YouTube Channel
Shovel Pocket
The trekking pole holders are not usually wide enough to hold a shovel if you need to carry one.  A shovel pocket is made by the addition of a flap sewn to the front of the bag with closures at the top.  This allows for the addition of a shovel or other accessories that are bulky enough not to need additional securements. This can be handy for storing items you need quick access to (granted you still need to take off the pack) or for stowing dirty items you don't want to place inside your bag.  This is a great feature if you want the capability of carrying a folding shovel in your kit be it for snow or digging holes for the restroom.
Laptop Pocket
This is a specialized pocket that provides additional padding for a laptop or tablet.  Most of the time, this pocket also keeps the device off of the bottom of the pack so the computer is not at risk of damage when you put the bag down harshly.  It is important to know the maximum screen size the pack will hold to ensure it will fit your device.  This is very useful for carrying in an urban day-to-day environment but usually not an issue for longer distances as most aren't carrying a full size computer.  If your bag does not have a laptop pocket, you can also purchase a separate laptop sleeve that fits your computer which will usually provide adequate protection for the device in the main compartment.  Just don't throw your pack down on the floor.
Reflective Elements
Reflective elements are strips of reflective fabric on the pack that reflect light to make you more visible at night time.  Obviously this gets in the way if you are trying to be stealthy, but it is always something you can cover up with duct tape.  If you are on a bike or hiking on roads, it is a good feature to make you more visible to passing vehicles.
Bungee Cords
Bungee cords can be found all over the pack depending on the manufacturer, however they are most prevalent along the front face of the pack.  Bungee cords are handy for quick strapping, but do have a few caveats to be aware of.  They only allow for limited tension on the gear, and you have to find a location to stow the excess cord once they are tensioned.  Even when at full tension, the gear can still move around or come loose. Bungee cords tend to stretch out over time which increasingly limits your tension control as the pack gets older.  If you plan to use your pack to traverse thick forest or heavy brush, avoid bungee cords as they are prone to snags on the vegetation.
Use Your Gear
There are a number of different parts and features that bring you advantages based on the method of use of your pack.  However, you will never know what features benefit your personal needs the best until you take your gear out and use it.  Be sure to check out Part One and Part Two of our bag selection series to help you make the best decision on selecting your pack.  If you are interested in our recommendations, check out the links to the products discussed in this article or check out our store.  Once you select a pack, then get it outside and take it for a spin!
Interested in receiving more articles like these as soon as they are posted?  Sign up for our newsletter, the Talon Communique by clicking here and have new content sent right to your email.
Other Articles You May Be Interested In
Pack Selection Series – Part One: 9 Vital Factors In Choosing A Pack For Your Gear
Pack Selection Series – Part Two: 3 Types of Backpacks to Meet Your Gear Loadout Needs