Seven 15 Minute Preps to Get Ready for Hurricane Season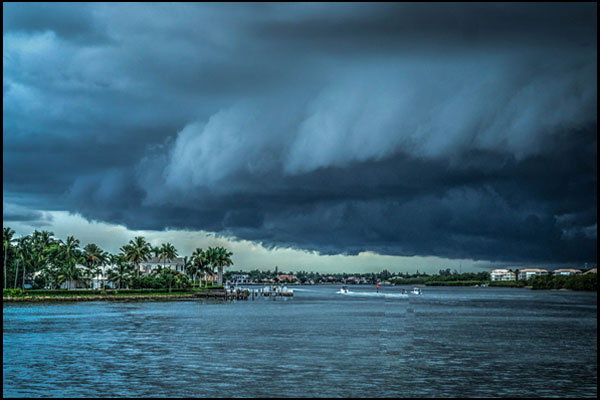 Hurricane preparedness is key for anyone who lives within a few hundred miles of the coast.  Hurricanes and tropical storms can form and make landfall in less than 24 hours.  Impacts are felt far inland, not just the coastal areas.  Here are a few steps to get you started when preparing for the hurricane season.  Each prep takes 15 minutes or less to complete and will put you on the right track to be better prepared.
Keep Your Vehicle Gas Tank At Least Half Full Throughout the Season
When tropical storm or hurricanes threaten, one of the first commodities to go is gasoline.  Always try to keep your tanks half full.  This can keep you out of long lines at the pump, allow you to get a jump on an evacuation, or even prepare you for rationing if it occurs.
Check Flashlights, Lanterns, Radios, and Other Communications Gear
Pull those flashlights and lanterns out of the cabinet and light up the room!  Be sure the batteries are good and the light is functional before you need it.  Turn on your AM/FM radio and turn to a couple different channels to be sure it is functional.  This is a great time to check and see if you can tune in to your local emergency station from your homestead, work, or other location.  If you can not tune in to the emergency station, identify a secondary alternative.  This is also a good opportunity to test two way communications gear or family communications plans with the family.  And don't forget to keep a few extra sets of batteries on hand.
Validate Your Insurance and Secure Important Documents
The worst time to find out you forgot to pay your insurance bill is after you lost a roof or got flooded because of a storm.  Take the opportunity at the beginning of the season to
locate the latest copies of your insurance documents (flood, windstorm, home, renters, etc.) and store them in a waterproof container (a freezer bag works great).
Flood insurance through the National Flood Insurance Program (NFIP) requires a 30 day waiting period after payment of premium before the policy goes into effect. If you are on the fence about whether or not to get it, make the decision now so your policy is active before the season ramps up.
Keep your documents in a readily accessible location in case you have to quickly grab them to evacuate.  This is also a great time to identify and store your policy number and phone number used to file a claim.  If your policy documents get lost or destroyed due to storm damage, not knowing those numbers can  delay the claims process.  Having this information can help streamline your filing and keep your claim on the top of the insurance company's claims pile.
Load Test Your Generator
Most people never test their generator until they need it.  Of those that do test it, the majority just start it up and let it run.  Take the few minutes to start up your generator and plug in a load.  Include anything you plan to run during or after the storm.  Let it run for 10-15 minutes, but if you have more time, the longer the better.  This will allow you to confirm the generator can handle the expected load after a storm.  It will also allow you to approximate the rate of fuel consumption.  As a follow-up, calculate the amount of fuel you have and how much runtime it will provide.  Get more fuel to store if required.  Also, don't forget the oil!
Plan Your Evacuation
If you plan to evacuate, review your evacuation route and potential alternates.  Identify potential food and fuel stops along the routes.  Be sure to account for the fact that you will probably be dealing with traffic so you will travel less distance on a tank than usual.  Ensure you have a place to go that is outside of the impact area.  Relatives or friends are great, but confirm with them ahead of time.  If that isn't an option, identify a lodging location and check it out before you need it.  Hotel and motel rooms fill up fast once an evacuation is triggered.  Make reservations ahead of time and pay attention to the cancellation policy.  For many major chains you can cancel with no charge up to 24 hours prior to check in. So you can cancel if the storm changes course.  You don't want to be stuck at the run down place that charges by the hour!
Start Building Your Home Emergency Supply Kit
One of the easiest and most important supply kits to develop is your Home Emergency Supply Kit.  It is already started with the non-perishable food in your pantry and water in your water heater.  Add on a little from there each time you shop online or go to the grocery store.  Since your home is your storage bin, it provides ample space for storage and organization of supplies when compared to bag based go kits.  Don't know where to start?  Download our free Home Emergency Kit Checklist to get you headed down the right track.
Keep Cash on Hand in Small Denominations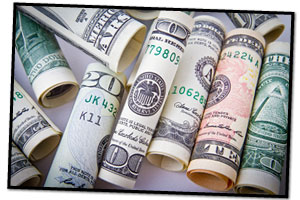 When the power goes out, electronic payment methods and ATM machines don't work.  Don't expect to pay with credit on your next run to refill your gas cans.  Keep cash on hand and in a secure location.  Small denominations are important unless you want to use that crisp $100 Benjamin to pay for $20 worth of wood and tarps at your local hardware store.  Many retailers quickly run out of the ability to make change, so small denominations allow you to keep more of that money in your pocket.
The List Goes On
When it comes to preparing for a Hurricane there is a number of items that need to be considered and many decisions that must be made.  These are just a few items that are quick and easy to get out of the way at the beginning of the season while also preparing you for a number of other hazards.
The more time you devote to pre-planning these matters before hand, the less stress they will bring when the incident occurs.  For kids and adults alike, having a plan provides a small sense of comfort and control during the chaos of a disaster.
If you would like to more ideas on how to prepare for a hurricane, download our free Hurricane Preparedness Checklist as a guide so you don't miss a step during the season, or when impact is immanent.
Like to shop for emergency supplies online?  When you are ordering supplies with Amazon, you can also support Talon Survival at no additional cost to you.  When you are ready to shop just use our special link.