Why We Use Berkey: Berkey Water Purification System Review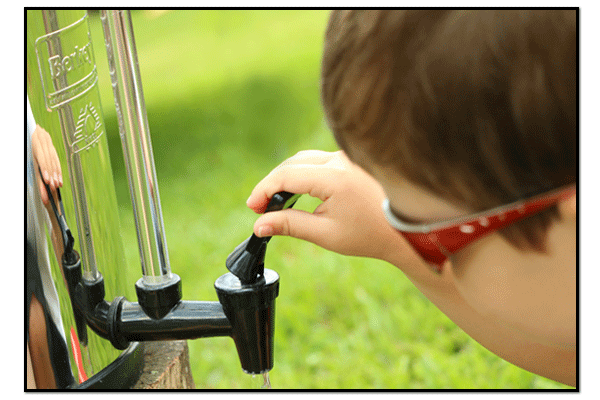 There are a number of different options to choose from when determining the best water purification option for your family.  After review of a number of different options, the Berkey Water Purification System is the best solution to meet our family's needs.
The Incident with No Notice
Whether you are returning to an area impacted by a hurricane or you wake up one random morning to a emergency text message from your neighborhood water authority:
FOR IMMEDIATE RELASE: The residents of your neighborhood are under a boil water notice effective immediately.  Due to a loss of pressure in parts of the system, all water must be boiled prior to consumption to ensure the destruction of harmful bacteria and other microbes in the water system.

And just like that, your tap water is no longer safe to drink.  This is what happened to us a few years ago when a malfunction at our local water authority caused our water to become undrinkable in the middle of the night.
More Questions than Answers
Without warning, your primary means of obtaining water is gone, yet the immediate needs of life continue.  The following questions come to mind.
How will I make my coffee?  Have I already made it and drank tainted water that will make me sick?
How will we make breakfast?
Will I have to go to the store to get water before we get the morning routine started?
Will the store have water locally or will I have to travel longer distances to get my water?
How long will it take to repair the water system?
How long do I boil my water for?
Will boiling filter out all the microbes or do I need to do more?
Can I use ice from the ice maker or water from the water heater or are they contaminated?
What have I used water for since the malfunction that I have to dump out?
Why A Home Water Purification Solution
So how you hydrate yourself or you children when the water system we depend on daily is no longer an option?  All these questions before you get started for the day.  This is where having a home water purification system that you can also use day to day becomes an emergency survival tool.
With the Berkey Water Filtration System, you take your tap water which is under the boil water notice and pour it in the top of the Berkey and filtered, drinkable water comes out.
Are you off the grid and don't have tap water? Just take water from a lake, pond, or stream to fill the filter.
Have a water cache on hand? That works too.  But let the Berkey get rid of the plastic taste and also limit the exposure risk from microbe buildup in your long term water storage.
Our Search for a Home Water Purification System
We looked at a number of different options for a water purification system that met a minimum of the following:
Water Purifier (Removes Bacteria and Viruses)
Movable / Semi-Portable
Removes Chemicals and Heavy Metals
Can Be Integrated into Daily Use
Long Filter Life
We researched number of different solutions from Berkey, Sawyer, Aquamira, Aqua Rain, and Katadyn to name a few.  But there were only a few options that met our requirements.  The Berkey exceeded all our requirements and had independent testing to back up their claims.  Something that other systems could not or did not provide.  Their modular system provided a long filter life and a range of reservoir sizes to meet the various needs of an individual though a large family.
Overview of the Berkey Water Purification System
The Berkey system meets water purification standards for both bacteria and viruses and is one of the few gravity fed filters available that is able to do so.  It requires no power or fuel to function (like reverse osmosis systems or boiling) and is elegant looking enough to be placed on your counter for use on a daily basis (the stainless steel version); which is the only true way to be prepared for a no-notice water emergency.  So whether you are filling your Berkey filter with tap water or with a bucket from an untreated pond or lake, your filtered water will always be drinkable.
Berkey Filters
There are a number of Berkey filters available to meet your needs.  The most common are the Berkey Black filter and Berkey Earth (White) filters.  The Berkey Filter elements trulely make the Berkey System shine above of all others.
Berkey Earth Filters (White)
The Berkey Earth filters will get you into a Berkey system for less money but only filter bacteria and chemicals, herbicides, pesticides, VOC's, THM's, heavy metals.  These are ok, but the Berkey Black is where its at.
Berkey Black Filters
We recommend the Berkey Black filters, hands down.  They are worth the extra money on the front end.  The Berkey Blacks filter all that the Earth filters do and more.  The Berkey Black filters give you true water purification by filtering both 99.9999% of bacteria (Log 6 Standard) and 99.99% of viruses (Log 4 Standard) including MS2 and FR-Coliphage which are some of the smallest and more difficult to remove.
In addition to removing bacteria, viruses, and reducing THM's, VOC's, heavy metals, PFC's, and chlorine, they also remove radiological particles including Alpha, Beta, and Uranium.  See test results from third party labs here.
Berkey also has secondary filters available which can be added to your system with the Black or Earth filters to also reduce fluoride, arsenic, MTBE, and other heavy metal ions.
Filter Longevity
So if investing in a Berkey System, how long will the filters last?  The short answer is, a long time.  Each Berkey filter element listed above is good for up to 3000 gallons.  If you run two filters, you get up to 6000 gallons of water before replacement is needed.
Just to give an idea, a family of four goes through about 2 gallons of drinking water per day (including morning coffee for two).  So one pair of Black Berkey filters would last you around 3000 days or 8 years!  Granted this is not during a time of emergency when you are running all of your water through a purification system, but the fact is the same; 6000 gallons is a lot of water.
So let's look at an emergency example where you are purifying 10 gallons of water per day (well above the FEMA preparedness recommendations of 1 gallon per person per day).  Your pair of filters will still last you 1.6 years. This is one of the factors that weighed heavily in our decision to go with the Berkey.
In addition to a long life, the filters do not expire when in dry storage.  So you can store extra unused filters in your preps until they are needed years later.
Berkey Black Filters are Cleanable!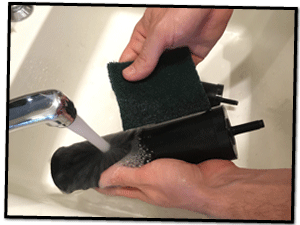 Let's face it, in a worst case scenario, you will not be using pristine water in your purification system.  And the dirtier the water, the shorter the life of the filter.  This is one of the limiting factors with many water purification or filtration systems.  When your filter clogs, you must replace it.  So the dirtier the water, the less life of the filter.
With a Berkey element, you grab a Scotch Brite pad, scrub the gunk off the filter, rinse it off, and it is ready to keep filtering (think the Energizer bunny of water filters).  Berkey recommends cleaning the filter when you "experience a drastic slow down in your flow rate".  I personally have scrubbed my Berkey filter set four times and they are still going strong four years later.
Always Plan to Pre-Strain Ground Water
When using untreated water to fill any water filtration system (including the Berkey), it is always a good practice to strain the water before pouring it in your filter system.  Some great strainers include a bandanna, cheesecloth, or even a t-shirt.  The more silt and muck you can filter before pouring into your filter system, the longer your filter will last.  With a Berkey, this will allow you to go longer between filter scrubs.
Berkey Is Economical: Cost Per Gallon
The initial cost of a Berkey system appears high over that of a Brita filter, standard fridge filter, or even a pump water purifier.  However, I urge you to look more into the numbers.  Over the long term, it is extremely cost effective.  In fact, most will recoup their initial cost in two years or less when compared to a standard fridge filter.
With the Berkey, not only are you getting true water purification which removes viruses and bacteria, you also get chemical reduction and flavor improvement.  All for a cost of around 2-4 cents per gallon.  This is well below the cost per gallon of many other filter systems (listed below):
| | |
| --- | --- |
| Water Filter System | Cost Per Gallon |
| Big Berkey with 4 Elements | $0.03 |
| Big Berkey with 2 Elements | $0.04 |
| Aqua Rain Ceramic Elements | $0.08 |
| GE Fridge Filter (no purification) | $0.13 |
| LG Fridge Filter (no purification) | $0.17 |
| Katadyn Hiker Pro | $0.23 |
| Aquamira Frontier Max / Red Filters | $0.31 |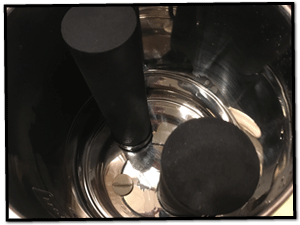 On pricing it is important to note that we were unable to include an accurate cost per gallon for the Katadyn Drip Ceradyn or Sawyer Point ZeroTWO filters.  Although the Katadyn filters state to have a water filtration capacity of up to 13000 gallons (which would calculate to around 2 cents per gallon), it must be replaced every 6 months to continue to filter chemicals and other particulates.  The Sawyer states a filtration longevity of up to a million gallons, however no reports were found confirming that their filter lasts this long.  It also states you should backwash and clean your filter daily which is impractical for most.  In fact, many reviews of the Sawyer have stated it clogs much sooner than advertised, even if the backwash process is used.  These issues make it very difficult to obtain an accurate estimation of cost per gallon.
Reservoir Storage Capacity
The Berkey System allows you to match your filters with a number of different size reservoirs to meet your space requirements and capacity needs.  Whether you are looking for purification for your RV, bug out vehicle, or your home for a family of 8, they have a system for you.  Their line of systems runs from a filtered water storage capacity of 1 quart with the Berkey Go up to 6 gallons with the Crown Berkey.  So pick the system for the space you have available. We have compiled a list of their reservoir systems for comparison below:
Berkey
Go
Travel Berkey
Big
Berkey
Berkey Light
Royal Berkey
Imperial Berkey
Crown Berkey
Material
Stainless
Stainless
Stainless
Co-Polyester
Stainless
Stainless
Stainless
Size
4"D x 10"H
7.5"D x 19"H
8.5"D x 21"H
9"D x 28"H
9.5"D x 24"H
10"D x 27"H
11"D x 31"H
Max # Filters
1
2
4
4
4
6
8
Storage Capacity
1 Quart
1.5 Gal
2.25 Gal
2.5 Gal
3 Gal
4.5 Gal
6 Gal
Max Flow Rate
1 GPH
2.75 GPH
7 GPH
7.5 GPH
8 GPH
21.5 GPH
26 GPH
Full Disclosure and Customer Service
In 2010 and 2011, there was a manufacturing problem associated with the Berkey Black filters causing the filter element to disconnect from the mounting base.  Thereby causing potentially tainted water to leach into the clean water portion of the reservoir.  By 2012, the design problem had been corrected and flawed filters were replaced free of charge for many consumers who requested it.  Since New Millennium Concepts (the owner of the Berkey name) was started in 1998, this has been the only design flaw impacting the filters.
We understand that some people believe Berkey to be a marketing ploy and not be true to their capabilities. To be honest, I believe many of these claims are based off of the bad taste left from the filter problems from 2010-2011 as discussed above.  But regardless of the facts, we understand there will always be some that feel the Berkey system doesn't live up to their claims.
In all of our research both for this article and before implementing the Berkey into our family four years ago, I can tell you this. I have not found a more extensively reviewed purification system with more independent testing from different sources proving its capabilities. Berkey is becoming a household name in water purification, and just as with many other leaders in the industry, they face skepticism and rumor from other competitors trying to gain a market share.
As with any preparedness product, I strongly urge you to do your own research on the Berkey system and competitor claims before making a decision for your preparedness endeavors.
The Berkey We Use
We selected the Stainless Steel Big Berkey System with 2 Berkey Black Filters. The configuration gives us 2.25 Gallons of storage with a 3.5 Gallon Per Hour maximum flow rate.  This exceeds our needs for both daily use filtration and emergency purification, when we need the purification the most.  We also added the Glass Water Level Spigot to make checking the water level in the reservoir a little easier.
On a daily basis, the Berkey System makes our water taste better and reduces the unwanted "crap" in the tap water.   It is a noticeable difference in taste (in a good way).  The water actually has a "refreshing" flavor.
It is hard to describe, but to give an idea, nearly all of the water we drink now is from the Berkey at room temperature.  Prior to the Berkey, no one in my family enjoyed tap water at room temperature.  It was always over ice or refrigerated first.  In fact, if it wasn't, the kids would refuse it.  The cold had to mask the flavor.
Our Berkey filtration system is more than four years old and we are still on our initial set of filters.  I clean them once a year (consider it preventative maintenance) and all continues to run flawlessly.  Each time I clean the filters and re-prime, I preform the "Red Dye Test" (see Berkey instructions for more detail) to ensure there is no leaks or leaching of water between the unfiltered reservoir and filtered reservoir and ensure the o-rings are seated properly.  To be safe, we keep a couple sets of extra filters in storage so they are on hand if ever needed.
Shiny Stainless Shows Spots but Can Be Easily Cleaned
With the durability and elegance of stainless steel comes the continual challenge of keeping it clean.  Our Berkey is set up near the sink meaning it is in the "splash zone" when rinsing dishes, etc.  Any water dripped or splashed onto the unit leaves a spot on the Berkey exterior when it dries.  Fingerprints from dirty hands also show as well.  Although a minor irritation, this is the only issue we have with the Berkey.
On the positive side, the exterior is very easily cleaned off with a moist micro-fiber cloth.  From water spots, finger prints, to minor food splatter from dish cleaning gone awry, there has been nothing we can't clean off with a quick wipe or sometimes a little elbow grease with vinegar and water.  I have never had to use the stainless-steel cleaner that is required for cleaning dishwashers, stoves, fridges, etc.
Daily Integration Is Key for Preparation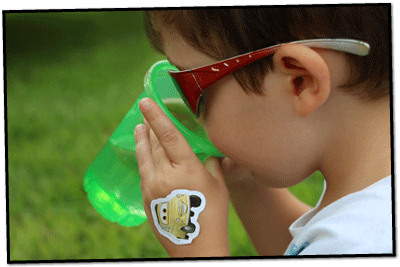 We have integrated the use of our Berkey system into our daily lives.  This is the best type of training when preparing for emergencies, when purified water is a commodity.  There is minimal change routine  from daily to emergency use other than the amount of water we filter (or pre-straining) that takes place.
This decreases the chance of failure when bringing the filter in to emergency service as opposed to a system such as the Sawyer Point Zero TWO Water Purifier Bucket Adapter Kit that sits in a dry box "on-standby" until needed.
Be it an emergency situation or a typical morning, our routine doesn't change.  Just put the water in the top of the Berkey, and drinkable water is stored.  Our Berkey is always there on the counter, with a few gallons in reserve, good to go.
Final Thoughts
The Berkey Water Filtration System is a great modular purification system that can be fit to match your specific water needs.  It is well designed and stylish enough to make a permanent addition to your kitchen counter be it an RV, home or office.  The system is built to last and has a filter longevity and purification capability (i.e. bacteria, viruses, chemicals/particulates, etc.) that rivals any other solutions on the market.
If you are totally dependent on boiling water for your water purification solutions, we highly recommend the Berkey system to expand your drinking water purification capabilities, improve the taste of your water on a daily basis, and always have some purified water in reserve for that no-notice emergency.
For more of our gear reviews click here, or check out our latest videos on our YouTube channel.