Our Search for the Best Backpacking Cookware
When assembling your emergency go-bags, it can be quite a challenge to be ready to provide meals for a family as dishes and cookware add in bulk quickly.  Meeting the needs for a family of four while still having a lightweight minimalist cook set profile is not an easy balance.  Here we are sharing what we found during our search to hopefully save you some time.
The Mission
The cookware kit was meant to serve in our INCH Bags (I'm Never Coming Home Bag – which is built to allow self-sustainability or up to 7 days). We also wanted the kit to be packable and lightweight enough for day to day camping and hiking trips.  The goal was to place one kit in each adult pack.  If a family could be supported with one kit, this would allow for either a back-up to be carried or for one adult to be able to lighten their loadout if needed.
To meet this method of use, the cookware had to fulfill the following requirements:
Lightweight as possible
Easily packable with no sharp edges
Provide good cooking experience with minimal clean-up
Meet the cooking needs for minimum of two, but up to 4 people
Make the most efficient and effective use of space in the pack
The Line Up
Most of the initial models we tested are designed primarily for backpacking and or camping.  These industries put a large amount of research and engineering into their design to make a lightweight yet sturdy product that is packable.  This was a great start for the requirements we were looking to satisfy.  We initially started our search for a cookware set with the following models.  Weight and details on the pieces included in each set are also listed in the tables below.
Cooksets Reviewed with Weight
| | |
| --- | --- |
| Cook Set | Weight (ounces) |
| GSI Pinnacle Dualist | 21.6 |
| MSR Trail Lite Duo | 21.6 |
| GSI Glacier Stainless Dualist | 24.7 |
| GSI Pinnacle Backpacker | 28.8 |
| GSI Pinnacle Base Camper Small | 32.2 |
| MSR Alpine 2 | 22.6 |
| MSR Quick 2 | 28 |
| Snow Peak 1400 Titanium | 7.4 |
| Snow Peak Multi Compact Titanium | 11.6 |
| Snow Peak Trek 900 Titanium | 6 |
Cookset Contents (what is included)
| | | | | | | | |
| --- | --- | --- | --- | --- | --- | --- | --- |
| Cook Set | Pot | Cup | Bowl | Lid | Sink | Pan | Additional Items |
| GSI Pinnacle Dualist | 1 | 2 | 2 | 3 | 1 | | 2 Sporks |
| MSR Trail Lite Duo | 1 | 2 | 2 | 3 | | | None |
| GSI Glacier Stainless Dualist | 1 | 2 | 2 | 3 | 1 | | 2 Sporks |
| GSI Pinnacle Backpacker | 1 | 2 | 2 | 3 | 1 | 1 | 2 Spoons, Forks, Knives |
| GSI Pinnacle Base Camper Small | 2 | | | 2 | 1 | 1 | 1 Cutting Board |
| MSR Alpine 2 | 2 | | | 1 | | | None |
| MSR Quick 2 | 2 | 2 | | 3 | | | 2 Plates |
| Snow Peak 1400 Titanium | | 1 | | 1 | | 1 | Note: Pan is the Lid |
| Snow Peak Multi Compact Titanium | 2 | | | 2 | | 2 | Note: Pan is the Lid |
| Snow Peak Trek 900 Titanium | | 1 | | 1 | | 1 | Note: Pan is the Lid |
Narrowing It Down
Almost all of the units felt quality made when in hand.  Some systems were designed by the manufacturer with more car camping in mind, while others were explicitly for ultralight backpacking.  So where do we start?
It's All about the Weight
As you may already know from our Bag Selection Series articles, weight has a direct correlation to the amount of stress and fatigue placed on your body.  The lighter the load, the easier to carry, or more weight allowance to add something else.  Because of this, one of the main factors in narrowing out the cooking systems was weight.
While some systems were heavier because the materials used, others included more than one cooking pan.  Following the minimalist size method of use, we did not have the need for a skillet, as most all the cooking could be done with the proper size pot.  While some meals would be easier in a skillet with lower sides, the packing needs trumped the additional pots due to the added weight.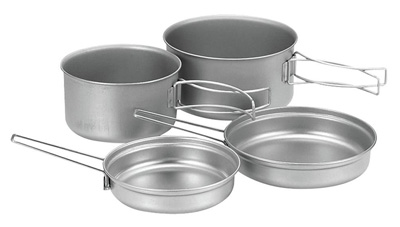 Why Not Titanium?
As you can see we looked at a couple titanium models of cook sets.  Titanium is durable and super lightweight (approximately 45% lighter than steel), however we narrowed these out for a few reasons:
Malleable Cookware
Titanium Heat Conductivity
Tough Cleanup
Weight Adds Up
Malleable Cookware
All of the titanium cookware we tested was very malleable meaning it deformed its shape rather easily when compared to the aluminum or steel cookware.  This doesn't mean it loses its structural ability to hold food or water, but you could easily turn a circular opening of a pot to an oval opening.  Although more of a personal preference, I did not want cookware that could easily be bent or deformed.
Titanium Heat Conductivity
Titanium conducts heat well, similar to stainless steel but does not heat evenly and can develop hot spots when cooking.  It is great for boiling water but can be difficult when cooking more delicate foods such as eggs.
Tough Cleanup
With no non-stick coating and being prone to hot spots, when you are cooking foods rather than just boiling water, it can make for a difficult clean-up with lots of scrubbing.  This means more time, more soap, and more elbow grease when energy conservation is a key concern.
No Lids or Insulation
Since there are no lids available, dropping and spilling easily is an increased concern with children.  If planning to drink a hot beverage, you are drinking out of a pot or pan, there is no hand protection on any of the titanium cookware other than the small movable metal handles.
Weight Adds Up, Even with Titanium
Since our primary method of use was to serve 2 to 4 people, this was only possible with one of the titanium systems we tested, the Snow Peak Multi Compact Cookset.  Even with it, someone is eating either out of a pot or pan (including the one you cooked the food in).  So much for seconds or keeping things warm.  To bridge this, you would have to add additional cook ware to your kit.  Even if looking at additional titanium, you are ranging from 3-10+ ounces added weight, bringing you closer and closer to the weight of aluminum cook systems which offer more features.
These issues with titanium may not be deal breakers for some, especially if you need the ultimate in ultralight gear, but they were ruled out based on personal preference and needs.
The Finalists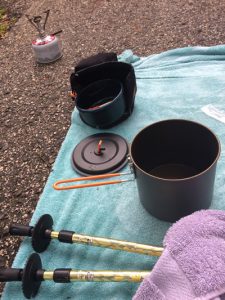 After lots of research and use, the search finally came down to the GSI Dualist and MSR Trail Lite Duo.  Both of which are made of hard-anodized aluminum with a non-stick coating. Both systems weigh in at 21.6 ounces and are also very similar in concept.  While the Dualist features a Teflon coating and the Trail Lite offers a white ceramic PTFE free coating, they both include the following:
1 Pot
1 Pot Lid
2 Bowls
2 Insulated Cups
2 Cup Lids
Carry Bag
Add the IsoButane!
Both are robust cook systems, perform well, and provide a great package with a small form factor.  You are able to store an MSR Pocket Rocket or other micro-stove stove in each.  The GSI Dualist also allows you to carry up to an 8oz isobutane canister within the kit while still carrying all the items it comes with.
Coating Comparison
The coating on the GSI Dualist also was more blemish resistant with its Teflon black color.  The MSR Trail Lite ceramic coating is white in color and I was unable to find a unit in store that did not already have blemishes from the way the contents store in the pot.  This did not affect cooking performance of the MSR, but did raise some concerns on overall durability and scratch resistance.
The Winner
The overall winner was the GSI Pinnacle Dualist Cookset.  While quite close in comparison to the Trail Lite, the GSI Pinnacle Dualist just seems a little sturdier in hand and offers additional features.  The ingenious design allows multiple uses of many items in the kit, while not sacrificing performance.  For a 21.6 ounce package (without the stove or isobutane canister), it truly offers a great lightweight cooking experience.  To see what brought the Dualist to the top of the pack, check out our dedicated review of the GSI Pinnacle Dualist cook set here.
For more great reviews, sign up for our newsletter by clicking here, or follow us on Facebook or Twitter.