Bug Out Bag Headlamp Pursuit: Black Diamond Spot and Princeton Tec Remix Review
Our current power grid system is an amazing feat in technology, but we are a little spoiled by it and the ambient light it provides at night.  Make no mistake, nights with absolutely no power are very dark.  For reasons like these, it is very important to find the right type of lighting for your emergency kits.  A situation where you need lighting and don't have it because a poor quality light was purchased is not one you want to be in.  In this headlamp review, we document our search for the right headlamp. Three lights made it to the top of the list, the old and new model of the Black Diamond Spot, and the Princeton Tec Remix but only one of them won out and made it into the Bug Out Bag.
Why a Headlamp
It is very important to select the right tool for the right job.  Initially when I stocked our bags a few years ago, I spec'd a hand held flashlight.  However the more and more I put my bag and the light to use, I discovered that I found myself holding the light in my mouth because I needed both of my hands to complete miscellaneous tasks.  This is not the most comfortable or ergonomic way to get light where you need it, or the most hygienic.
It was also about this time that I started building my kids emergency kit.  It became apparent to me that children need both their hands for many tasks that we can do with just one.  They have not yet developed the dexterity and fine motor movement that we have as adults.  A headlamp for the kids brings a real improvement to the speed in which they can complete their task being it reading a book or looking for a toy.  This alleviates the "frustration factor" for the child therefore making your life easier as a parent.  In addition, the kids think they are just plain fun.  A bright light that I can put on my head that lights up white and red that also flashes…the coolest thing ever!
So I started looking into headlamps for my kits and wow, I should have started using them sooner.  Yes you may look a bit goofy to those around you, but you are a lot more efficient, effective, and comfortable.  Which is what matters.  As for those who point fingers, go ahead and hand them that old handheld flashlight you held in your mouth and slobbered all over before you got your headlamp.
Our Requirements
At this point I had a number of headlamps but needed one to meet the needs for multiple philosophies of use.  It had to be proficient for day to day use but also meet the requirements for being included in my Bug Out Bag.  This meant, the following requirements had to be met:
Weight and Comfort: Lightweight and Compact
I needed a light that was light weight to keep the weight of my kit down.  This also directly relates to the comfort of the light.  I wanted a light I could put on my head and almost forget that it is there. When wearing a light for consecutive hours, you don't want your head to feel as it is in a vice.  A headlamp is a small item, but the weight of small items add-up.  Remember, ounces equal pounds and pounds equal pain.
Run Time: Minimum of 36 Hours on High
I needed a long run time.  Our Bug Out Bags are a 72 Hour Kit.  I need the light to be capable of running on High mode for a minimum of three nights (12 hours per night x 3 nights =  36 hour runtime requirement) on a single set of batteries.  This accounts for the longest nights in most of the Central US and for the variance in runtime specifications for most lights.
Battery Type: AAA Batteries
I require all of my gear in our Bug Out Bags to take AAA batteries.  If you check our free Bug Out Bag Contents Checklist, you will find that all the items included that take batteries are AAA.  We chose this size due to the following:
Size/Weight to Power Ratio:

A good brand of AAA will provide enough power for the needs of a 72 hour kit while saving weight over AA or larger sizes.

Standardization:

By only requiring one size of battery for all the items in the kit makes it easier to carry and provides universality. If you have that battery, you can run all your stuff.

Commonality:

Although not as common as AA, it is the runner up, accounting for 24% of overall alkaline battery sales in the Unites States in 2007. The more prevalent, the easier to find during hard times.

Lithium Option:

You have the option to purchase AAA size lithium batteries which cost more, but save additional weight, provide better runtime, longer storage time, and alleviate the risk of leaks found with alkaline cells.
Durability: Above Average
I needed a light that was sturdy, able to handle standard wear and tear as well as drops from about 6 to 8 feet.  I don't need a tank, but don't want something that will break in my bag or if the kids get a hold of it either.  The child test is always a good one for durability.  Give the light to a preschooler or elementary age child for a week and if they haven't destroyed it, it usually somewhat durable (there was more to our durability testing than that but the child test usually works well).
Beam Type and Brightness: Long Throw with Flood / Adjustable Brightness
The light must have the ability to throw light a decent range, but also provide flood capability to complete close in work without being blinded or getting color washout.
Brightness Options: Dimmable
The light needed to have the capability of lowering the brightness.  This also helps with limiting color washout and getting blinded when preforming close in work when you need a light that is also designed for long throw.
Color Options: White and Red
White and red were needed, white to allow high visibility and red to retain night vision.
Water Resistance: IPX4 Minimum (IPX rating scale explained below)
The light had to stand up to a minimum of light rain.  For this I went with a minimum of an IPX4 rating which is stretching it.  I would like the light to have an IPX8 rating if possible.
Comparison Matrix and Specifications
Below is a quick matrix comparing the features of all three headlamps that made it to the top of the list.  We will go into more detail into each light one at a time in the following sections.  If you can't wait, or don't want to read the details on all the light and just want to skip to the winner, click here.
Headlamp

Feature

Black Diamond Spot 2016
Black Diamond Spot 2015
Princeton Tec Remix White/Red
Water Resistance
IPX8
IPX4
IPX4
Personal Comfort
Very Comfortable
Comfortable
Not Comfortable
Weight w Batts
3.25oz
3.3oz
2.92 oz
Weight w/o Batts
1.94oz
1.9oz
Not Listed
Lumens on High
200
130
150
White High Power Battery Life Rating
50 hours
70 hours
28 Hours
White Light Beam Type
Spot / Flood
Spot / Flood
Spot Only
Longest Low Power Battery Life Rating
200 hours (spot led)
200 hours (spot led)
200 hours (red leds)
On/Off Switch Lock
Yes
Yes
No
Battery Type/Count
3 AAA
3 AAA
3 AAA
Long Throw White LED
Yes
Yes
Yes
Near Field White LED
Yes
Yes
No
Near Field Red LED
Yes
Yes
Yes
The IPX rating is part of the ingress protections marking standard published by the International Electrotechnical Commission (IEC).

IPX4 Rating – Splashing of water; Water splashing against the enclosure from any direction shall have no harmful effect.  Test duration: 5 minutes.

IPX8 Rating – Immersion 1m or more depth; the equipment is suitable for continuous immersion in water under conditions which shall be specified by the manufacturer (usually 1-3 meter depth).  Test duration: 30 minutes.
Third Place: Black Diamond Spot – Old Model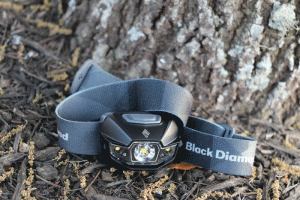 The first headlamp we tried was the old model of the Black Diamond Spot.  The light was sturdy but relatively light.  The headlamp offered a large white 130 lumen spot LED (which Black Diamond calls the TriplePower LED) with a very long throw easily making things easily visible at night out to 100+ feet.  Two small white LEDs and two small red LEDs were also included to provide a soft white or red light for near field use.  Each light mode is dimmable allowing you to select the right lighting for the task at hand.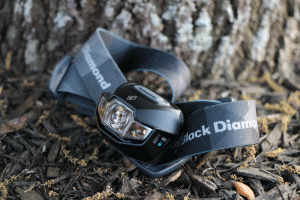 It also has a feature called PowerTap™ which allows you to cycle between your current dimmed brightness setting and the highest brightness setting.  This is handy if you need more light temporarily, you can get it with a quick tap, then turn it back to low without cycling through a bunch of modes or colors.  When you turn it on, the light starts at its brightest setting then can dim from there. The small white LEDs were great for close up actives such as reading a book, using in a tent or looking through your bag.  The small red LEDs were perfect for providing enough light for close up tasks while maintaining your night vision such as reading a map, stargazing, getting into and out of your tent while others are asleep, checking your watch, etc.  Although it was comfortable to wear, it did feel a bit bulky on the head, especially for women or those with a smaller stature.  This light met all the feature requirements that we required, except there were a few reports of owners getting caught in a rain storm and the light going out until it is opened up and dried.
All in all the light had one major flaw, color temperature.  The TriplePower LED light output is YELLOW!  I maybe a little bit of a light snob, but I like for the objects that I see to be as close to their actual color as possible and not have the visible color be skewed by the LED light used to illuminate the area.  The corona and focal point of this LED light is extremely yellow causing an obvious and extreme color change of objects you illuminate within about 30 feet.   In other words, it makes objects look much yellower than they are in real life.  The color temperature is also very uneven.  In certain parts of the LED illumination area it is white, in others it is yellow, so you do not get an even color temperature across the illuminated area.  You can see this issue slightly in some of the images included below but it is much worse in person that what.  Only so much can be captured by camera.
All in all, if color accuracy isn't an issue for you, this is still a great light, and can be found for a great price.  Since the newer model has been released (we review the new model a little later in this post), you can find this one on sale or clearance in most places that sell Black Diamond products.  However, I would recommend exploring our other top two lights before pulling the trigger on this one.
Runner-Up: Princeton Tec Remix
The next light we tested was the White/Red version of the Princeton Remix.  This light offers a 150 lumen long throw LED that Princeton Tec calls their MaxBright LED.  This is accompanied by three smaller red LEDs for near field use.  The light is simple to operate, press and hold to switch between white or red, press and let go to change the brightness settings.  The on/off button has a very squishy feel but is responsive.  The button is recessed making accidental activations difficult.  I never had an issue with the headlamp getting turned on while in my bag.  This is important since the light does not offer a lock feature like both Black Diamond models.
Each lighting mode has a low and a high brightness.  When you turn on the light it always starts with the lowest setting.  Some may prefer this for tactical applications, I personally prefer the high setting first.  When it starts up on low, I always feel like I need more light, which means more time and additional button presses.  Another disappointment with the light is that it always starts with red first, you cannot go straight to white without first getting red.  The white light is an even cool white color temperature throughout its illumination area with no yellowing at the center or the edges.  It does not cause any color shift when illuminating objects.
The LEDs are great for long distance applications but the low settings are almost too bright for close up applications.  The white LED, even on low power causes slight washout when preforming close-up tasks and the red LEDs on low are still bright enough to impact your night vision.
This was the only light in the testing lineup that would allow for upwards and downwards tilt, both other lights would only allow for a downward tilt.  Although an upwards tilt may not be used often, it is a useful feature when working with items overhead or when using to illuminate an area with bounce lighting methods (i.e. lighting a room by bouncing light of a ceiling).
As far as comfort goes, that was the deal breaker during our testing.  Regardless of the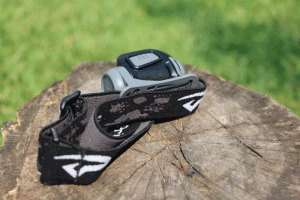 strap tension, there was always the feeling of rigid hard plastic directly on the forehead leading to discomfort, even after short periods of time.  This is because not all of the light frame is covered by the headband.  The discomfort gets worse if you wish to adjust the tilt of the light one handed as the top or bottom of the frame digs into your head.  It is fine if you use two hands to adjust the tilt as you can support the frame to keep it from digging into your head, but I am utilizing a headlamp because I need both my hands for the task at hand, not to adjust the light.
It is important to note the Remix is available in multiple color combinations allowing you to get the MaxBright LED with different colors of the small LEDs based on the model you chose.  They offer White/Red (what we are reviewing here), White/White, or White/Green.  This can be handy if you are looking for another philosophy of use such as piloting aircraft or tactical situations where green LEDs maybe preferred for nighttime use over red.  A Remix Pro model is also offered in White/White, White/Green or White/Red with a CR123 battery if it better suits you needs.
If the low to high setting is not an issue for you or you are wearing the headlamp over a head cover of some sort, the light is sturdy and a good performer.  For our needs we went with the next contender.
The Winner: Black Diamond Spot New 2016 Model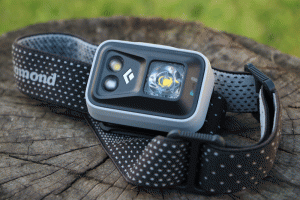 The winner hands down is the new 2016 model of the Black Diamond Spot.  Let's just say that the engineers at Black Diamond really took the feedback form their customers on this one.  First, this was the only one tested that was IPX8 water rated,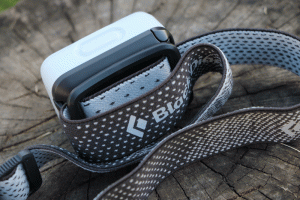 the only truly submersible light that we reviewed.  Light rainfall or heavy Texas downpours are not an issue.    The light is compact, lightweight, sturdy, and very comfortable to wear.  There is no feeling of hard plastic on the head with this light.  Black Diamond did a great job using a semi-rigid plastic (more flexible than that of the Remix) for the frame and a much more pronounced curve to match up well with the contour of the forehead.
The long throw LED offers up to 200 lumens, and is the brightest of all the lights we tested while still meeting our runtime requirements.  The LED color temperature is more of a soft white than a cool white, and the yellowing issue that was severe with the older Spot model is under control with this one.  There is a slight yellow ring around the outer edge of the lighting area as you can see in the pictures, but not enough to cause major shifts in viewable color.  The focal point of the LED is an even color temperature across all lighting area except for the very edge of the ring (as mentioned above).  The long throw spot LED when at its lowest setting is usable for close up tasks without washing out color due to brightness.
The light also offers a near field red and white LED, both which provide a widely diffused flood option for close in tasks.  Great for lighting inside of a tent, reading a map, or making a Mountain House meal at night on the camp stove while retaining night vision. Just as with the older model, each lighting mode has a dimmer feature that allows you to select any range of brightness between the highest and lowest setting.  In addition, you still have a battery meter to show you the current battery status and the PowerTap™ feature to instantly switch back to high power from your current brightness setting when needed with a single touch of the frame.  The near field LEDs in combination with the long throw spot at low power really gives you all the lighting options you need for a multitude of tasks. Never to bright, never to dim, just right.
The on/off switch is low profile but pronounced enough at the top of the light to make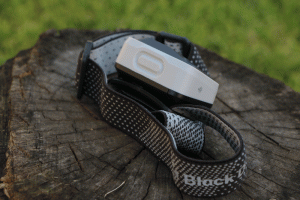 activation and mode changes easy even when wearing gloves.  I did have a problem with this light turning on in my bag, hence the button lock feature.  When I turned on the lock feature, which is very easy to engage and disengage, it solved the problem.  Once the light is on, it starts at the brightest setting and you can dim as needed by holding down the on/off switch.
You have the option to activate the light in starting in red or white mode, and it remembers your last setting.  This is a very useful feature.  If I was just hiking and using the white spot LED and am now in the tent with acquired night vision, I don't want the white to turn on, I can just go straight to red.  And later when I need to get up in the middle of the night to check on the kids, the light is already good to go on red, as it remembered my last setting.
Conclusions
All in all, each light was a good contender, but the feature set of the new 2016 Black Diamond Spot brings it to the top.  Providing a waterproof rating, all the features of the old model, without the LED yellowing issues, and in a more comfortable and lightweight frame, it truly is comfortable to wear with enough lighting options for a multitude of tasks.
As for the other two lights, I could not get over the comfort issues with the Princeton Tec Remix as it was not friendly to the forehead.  The severe color temperature and yellowing issues of the older model Spot was unacceptable.  I am surprised a quality manufacturer like Black Diamond would use an LED and reflector system of that low color quality, but needless to say, they corrected the issues on the new model which is here to stay.
Did this information benefit you in your search for the proper headlamp?  If so, please use our links from the page to check them out on Amazon.  We get a small commission at no additional cost to you which helps us bring you additional reviews and content.  Have family or friends who are just getting started in their preparedness endeavors?  Share this article with others using the social media buttons below.  Remember, when it comes to preparedness knowledge, sharing is caring.